Volume 1, Issue 1, April 2017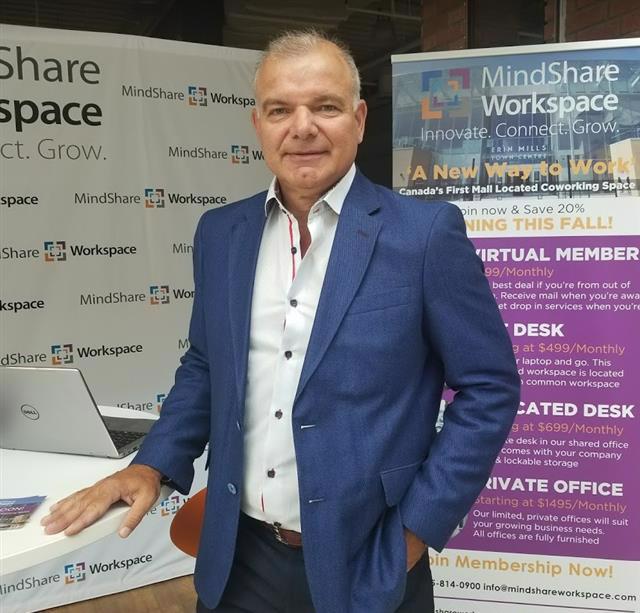 Dear Colleague,
I'm thrilled to share our inaugural MindShare Workspace GroWorker eMagazine. A New Place to Work and Grow is a fitting theme with the Spring season upon us.
My inspiration for the MindShare Workspace--Canada's First Mall-located coworking space aims to provide opportunities for people like you to Innovate, Connect and Grow in a state-of-the-art facility situated in Erin Mills Town Centre in Canada's 6th Largest city--Mississauga.
Whether you're planning an event, or in need a of cool place to work or meet, there's something for all types professionals! Memberships are available from as low as $9.95/per day.
Please don't hesitate to contact me if I can be of further assistance. Until next time keep your growth curve steep! Best, R.
Robert Martellacci, M.A. EdTech
Founder & CEO, MindShare Workspace
President, MindShare Learning Technology™
Chief Digital Curator, The MindShare Learning Report™
Co-founder & President C21 Canada™
Follow us on Twitter @MindShareworkspace
Greetings from the Workspace,

My name is Daniel and I have the pleasure of saying that I am the digital designer for the MindShare Workspace.

Thank you for taking the time to read the first issue of the GroWorker. The GroWorker is our monthly newsletter to discuss everything that is coworking and everything MindShare.

I hope you enjoy our newsletter and we are always open to suggestions, ideas, criticism, and of course potential news we can include every month that can improve the newsletter.

Regards,

Dan
"This new location marks the first time a Canadian mall has become home to a co-working space. It's another important first taking place right here in Mississauga."
- Mayor of Mississauga, Bonnie Crombie
Honourable Mitzie Hunter, Ontario Minister of Advanced Education and Skills, Announces the Ontario Training Bank an investment of $63m over 3 yrs
Robert Martellacci (right) presents Honourable Mitzie Hunter (middle) with a MindShare Workspace athletic wear in preparation for her upcoming election marathon.
Mississauga Mayor, Bonnie Crombie visits the MindShare Workspace and shares her thoughts in her personal Blog
"Yesterday I had the opportunity to join the team from MindShare Workspace on their official opening at Erin Mills Town Centre. This new location marks the first time a Canadian mall has become home to a co-working space. It's another important first taking place right here in Mississauga."
Mayor Bonnie Crombie and MindShare Workspace, Founder, Robert Martellacci leading the Officail Ribbon Cutting of the MindShare Workspace on the Grand Opening.
World Renowned Artist Jimmy Engineer Gallery Showing
The MindShare Workspace is hosting a gallery showing for world renowned artist Jimmy Engineer called "Culture Transending Borders"
Join us for our Tech Meetup Wednesday April 25th, 2018, at 6:30.
Lessons from Successful Startups. Tickets are $10 each and all proceeds are being donated to the Trillium Health Partners. Head over to our Eventbrite page and get your tickets now!
Logics Academy will be having evening and Summer Camps for students of all ages.
Robotics and coding are rapidly becoming more and more popular and Logics Academy is already teaching kids how to code and are teaching robotics classes every Saturday all through the summer right here at the MindShare Workspace. Head over to the website to find the right program for your child and register today!
Founder Robert Martellacci interviews inaugural member, Colin Barry, about why he decided to join the MindShare Workspace team, and his thoughts and inspirations since arriving.
Discovery 2018
April 30 - May 1, 2018
Orion Think Conference

May 1 - 2, 2018
Fesitival of Learning 2018

May 28 - 30, 2018
Ecno 2018

June 3 - 5, 2018
ISTE 2018

June 24 - 27, 2018
Dr. Ulli Krull
Principal, University of Toronto Mississauga
Peter Singh
CTO, Toronto District School Board
Joseph Wilson
Director of Business Development SpongeLab (former MaRSDD Advisor)
Mark McPherson
VP, Advanced Presentation Products
Ramy Ghattas
Co-founder, Logics Academy
Suthan Sivanesan
Sr. Business Development Manager, Ontario Centres of Excellence
Michael Bator
Executive Director, CCC/ Former Director Dufferin Peel CDSB
Maxim Jean Louis
CEO, Contact North
Ron Sedran
Managing Director, Syndication, Canaccord Capital
Tim Gard
Teacher Librarian Toronto District School Board
Phil Cutler
CEO & Co-Founder, GradeSlam
Dr. Gina Cherkowski
Founder and CEO of STEM Learning Lab
Patricia Gartland
Superintendent of Schools & CEO, School District 43 Coquitlam
Dr. Aman Iqbal
PhD, MBA: Healthcare Entrepreneur, Mentor and Investor
Michael Fearon
Emergency Management Assistant OPS / Instructor Ryerson University / Research Assistant York University
Rahul Mehta
HBSc, Candidate for Masters of Environmental Studies
Mindshare WorkSpace Inc.
Erin Mills Town Centre Shopping Mall, Unit E100A
5100 Erin Mills Parkway
Mississauga, ON L5M 4Z5
Phone: 905 814 0900
Email: robert@mindshareworkspace.com
| | |